Arabian Travel Market set to open in Dubai on May 1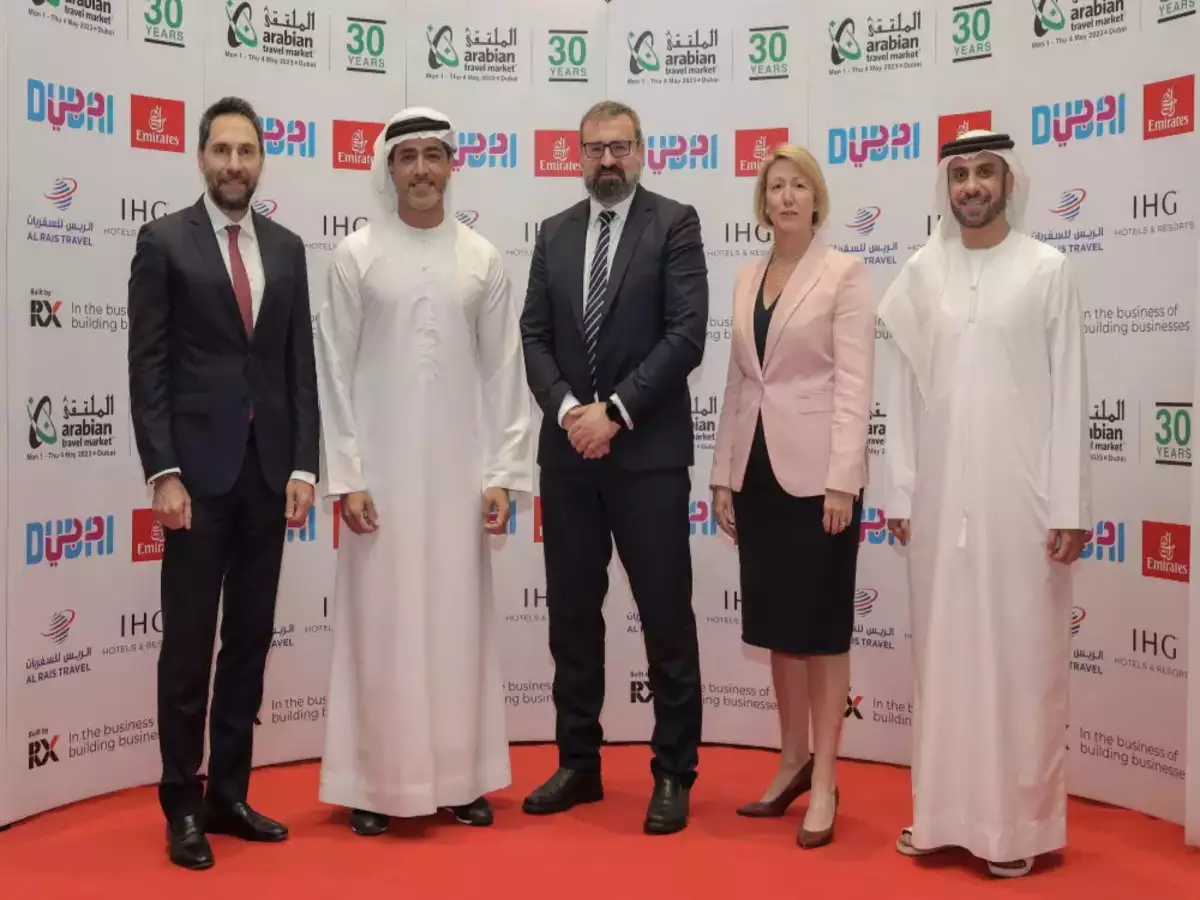 Held in collaboration with the emirate's Department of Economy and Tourism (DET), the four-day mega event will host over 2,000 exhibitors, representatives from more than 150 countries and an anticipated 34,000 attendees. In its 30th edition, the show sees 27% YoY rise in exhibitors, with growth across all show sectors.
From left to right: Haitham Mattar, Managing Director, IHG Hotels & Resorts; Issam Kazim, CEO, Dubai Corporation for Tourism and Commerce Marketing, part of DET; Vasyl Zhygalo, Managing Director, RX Middle East / Portfolio Director WTM and IBTM, RX; Danielle Curtis, Exhibition Director for the Middle East, Arabian Travel Market; and Adnan Kazim, Chief Commercial Officer, Emirates.Themed Working Towards Net Zero,
Arabian Travel Market
(ATM) 2023 is set to open in
UAE
's
Dubai
from May 1 to May 4, 2023. Held in collaboration with the emirate's
Department of Economy and Tourism
(DET) and in its 30th edition, the show will host over 2,000 exhibitors, representatives from more than 150 countries and an anticipated 34,000 attendees.Interestingly, the exhibitor participation in
ATM 2023
has risen by 27% compared to last year's event, with growth registered across all show sectors. These include regional upticks for the Middle East, representation for which will be 24% larger than in 2022, Europe (17% larger), Asia (15% larger) and Africa (8.5% larger). The event's Travel Tech and hotels sectors have also witnessed sizeable year-on-year growth, expanding by 62% and 37.5%, respectively.
"ATM 2023 will provide a platform for a diverse array of public and private-sector speakers, all of whom will offer expert insights into sustainable travel trends, responsible tourism and a host of other industry-critical issues," said Danielle Curtis, Exhibition Director ME, Arabian Travel Market.
Other than the theme, the highlight of this year's ATM is the return of the Chinese traveller. For the first time after the country lifted its Covid-related travel restrictions earlier this year, Chinese exhibitors and travel professionals are making a return to ATM 2023, an official release by the exhibitor shared. China became the world's top source market in 2019, with 155 million tourists spending more than USD 250 billion overseas. Based on predictions, the nation's outbound market is expected to recover to around six million travellers per month by the summer of 2023."We've seen a robust increase in exhibitor growth across all show areas and it's exciting to be able to welcome back our Chinese colleagues after remaining covid restrictions were lifted in the region," said Vasyl Zhygalo, Managing Director of RX Middle East and Portfolio Director of WTM, IBTM and RX.
"With sustainability an ever-increasing consideration for the travel industry, and indeed across the WTM and IBTM event portfolios, it's never been more important for the sector to interact with ATM 2023's theme, 'Working Towards Net Zero' and explore the vast array of business trends and opportunities showcased around this topic at the show," added Zhygalo.
As in previous years, Southeast Asia and India will feature prominently at this year's event as well. According to a Reserve Bank of India (RBI) report, Indian nationals spent a record USD 10 billion on overseas travel during the first nine months of 2022, an increase of nearly 43% compared to pre-Covid figures. Other estimates indicate the number of annual outbound journeys will reach more than 27 million by 2024, with a total value of over USD 42 billion.
To mark its 30th edition, ATM will be unveiling a dedicated sustainability pledge that has been designed to reinforce RX's commitment to the delivery of sustainable events through the use of environmentally friendly materials, the elimination of single-use plastics and other forward-thinking initiatives. In addition to setting out the show's journey towards net zero, this pledge will be accompanied by a new playbook, which offers participants a framework within which to mitigate their environmental impact before, during and after the event, the exhibitor shared.
"It is indeed fitting that this year's ATM theme focusses on sustainability to build a better future for tourism. For us, this theme assumes even greater significance as 2023 is UAE's Year of Sustainability and Dubai will be hosting COP28, the UN Climate Change Conference," said Issam Kazim, CEO, Dubai Corporation for Tourism and Commerce Marketing.
"Dubai has made significant strides in this area, with strategies to reduce carbon footprint and create a more environmentally conscious tourism industry, aligned with the ambition of our visionary leadership to make Dubai the best city in the world to visit, live, and work in. As momentum continues to accelerate across the global tourism andMICEsegments, we welcome the pursuit of a more evolved, collaborative, inclusive and long-term approach to sustainable growth and practices for the industry," Kazim added.
In addition to sustainability, the ATM Global Stage will host a variety of sessions focused on pivotal industry issues, including, but not limited to: hotels and hospitality; aviation and transport; meetings, incentives, conferences and exhibitions (MICE); business travel; investment; responsible tourism; workforce diversification; and emerging segments such as attractions, cruises, wellness and cultural tourism.
The upcoming edition will see the return of the ATM Travel Tech Stage, which will host discussions on how factors such as artificial intelligence, the metaverse, cryptocurrency and big data are impacting the travel sector, while showcasing cutting-edge innovations and solutions with the potential to drive the next generation of sustainable tourism.
ATM 2023 will also feature a Sustainability Hub for the first time in the show's history. This space will offer a venue for sessions dedicated to the latestsustainable traveltrends and innovations, while providing the backdrop for the ATM 2023 Start-up Competition.
This year's show will see the return of International Luxury Travel Market (ILTM) Arabia, which will explore trends and opportunities within the burgeoning field of high-end tourism. There will also be sessions from the International Tourism & Investment Conference (ITIC), the International Congress and Convention Association (ICCA) and the Global Business Travel Association (GBTA).
"As we celebrate 30 years of partnership and commitment at ATM, it's remarkable to see this event's evolution and growing prominence on the global stage," said Adnan Kazim, Chief Commercial Officer at Emirates. "We are proud of the role we have played in the growth of ATM and strengthening its mindshare as an industry event, as well as the growth of our home city Dubai, which is at the forefront of global tourism," he shared.
The 30th edition of ATM will take place as part of Arabian Travel Week, a festival of events dedicated to enabling industry professionals from all over the world to collaborate and capitalise on market opportunities through exhibitions, conferences, breakfast briefings, awards, product launches and networking events.
ATM 2023's strategic partners include Dubai's Department of Economy and Tourism (DET) as the Destination Partner, Emirates as the Official Airline Partner, IHG Hotels & Resorts as the Official Hotel Partner and Al Rais Travel as the Official DMC Partner.
Driving sustainability: Strategies for hotels to achieve environmental, social goals
According to the World Tourism Organization, the tourism industry is responsible for around five percent of global CO2 emissions due to its high dependence on carbon-based fuel, food, and water. The hotel industry, in particular, has a significant part to play given its role on consumer consumption and local communities.
Representative Image
By
Chetna Kaura
In today's fast-paced world, we often prioritise convenience over
sustainability
when it comes to travel, making it easy to overlook the impact that our actions have on the environment.
The travel and tourism industry are a significant contributor to greenhouse gas emissions and climate change. According to the World Tourism Organization, the industry is responsible for around five percent of global CO2 emissions due to its high dependence on carbon-based fuel, food, and water. The hotel industry, in particular, has a significant part to play given its role on consumer consumption and local communities.
There is reason for optimism that a solution to the problem exists in the form of the circular economy model, which prioritises the creation of a closed loop where waste is minimised, and all resources are either reused or recycled. This creates an opportunity for the hotel sector to be at the forefront of the movement towards sustainable tourism practices and set an example for the rest of the industry.
Benefits of the circular economy model for the hotel industryThe circular economy model can help hotels achieve sustainability in three key areas, primarily in cost saving, reputation, and opening up new revenue opportunities. Waste reduction and material reuse can result in significant cost savings on procurement and waste disposal. It can enhance hotels' reputation as eco-friendly options, potentially attracting more business. Lastly, the model can stimulate innovation and new revenue streams for hotels.
Sustainability risks to the hotel industryWhen considering the circular economy model for hotels, we must keep in mind the present sustainability risks facing the sector too.
Over-reliance on food imports increases the industry's carbon footprint and negatively impacts the countries they operate in. According to a report by the World Wildlife Fund, the food and drink sector accounts for nearly a third of global greenhouse gas emissions, and the transportation of food accounts for a significant portion of these emissions. Reducing reliance on food imports will be critical for hotels to achieve sustainability goals.
Additionally, the industry's dependence on a dedicated workforce limits their ability to adapt to changing market conditions in sync with their sustainability goals. This is because hotels can find it difficult to quickly train and retrain people on new sustainability practices and procedures, especially if a hotel is understaffed or if there is high turnover, which is common in the industry.
It is also challenging for hotels to influence guest behaviour towards pro-sustainability practices, which can impede their ability to fully realise and uphold their sustainability commitments. According to a survey by Booking.com, while 82 percent of travellers believe that sustainable travel is vital, only 43 percent said they often or always manage to travel sustainably. These risks create an opportunity for innovation to address sustainable practices.
Sustainable local food sourcing for hotelsOne way for hotels to address sustainability risks is by rethinking their food sourcing practices. Food imports can increase a hotel's carbon footprint, and over reliance on large-scale industrial agriculture can contribute to environmental degradation. On the other hand, sourcing food locally can support small and medium-sized enterprises, and smallholder farmers while promoting sustainability.
The Natural Step sustainable design framework is an excellent tool for hotels to align their food sourcing practices with sustainable principles. The framework emphasises reducing dependence on non-renewable fuels and synthetic chemicals, minimising destruction of nature, and ensuring no hindrance to local people from meeting their needs.
Even procuring 50 percent food locally can have numerous benefits for hotels, including cost savings on imported food, improved brand reputation, and being a local community champion. While there may be challenges such as inadequate quantity and inconsistent quality of produce, educating staff and customers and increasing the procurement team's bandwidth can help overcome these issues.
Sustainable staffing by hiring local talent
Hotels can truly make a difference in their communities by prioritising local hiring practices. It's not only a smart business move, but it can also lead to a long-term positive impact on the environment and society. Hiring from the local community can also help hotels build stronger relationships with their workforce while building a positive image in the local community. A local team can also create elevated customer experiences through a better understanding of local culture and customs.
Furthermore, by hiring locally, hotels can benefit from financial incentives offered by the local governments and reduce their carbon footprint by minimising staff commuting. Of course, challenges such as finding the right talent pool may arise, but with a little effort and investment in training and education, hotels can create a situation where everyone comes out on top, from the guests to the planet.
Influencing pro-sustainability behaviours of guestsEncouraging guests to adopt pro-sustainability behaviours can be a win-win for both hotels and the environment. One effective strategy is to offer sustainable toiletries and accessories only on request. This not only reduces costs in the short term but also nudges guests to be more mindful of their consumption levels. Another way hotels can promote sustainability is by providing guests with a "Guest Sustainability Report" at check-out. This can make guests feel good by letting them witness the positive impact of their eco-friendly choices, which would encourage them to continue making sustainable choices in the future.
Furthermore, adopting a sustainable philosophy, will allow hotels to tap into a growing segment of guests who value ethical and eco-friendly practices. A survey by TripAdvisor found that 62 percent of travellers would choose one hotel over another because it had more environmentally friendly practices.
In a world where environmental concerns are becoming more pressing, hotels that prioritise sustainable growth have the opportunity to set a positive example and make a meaningful impact. By taking responsibility for their ecological footprint and demonstrating their commitment to ethical and environmentally conscious practices, hotels can not only appeal to a growing segment of eco-conscious consumers but also drive progress towards a more sustainable future.