DeSantis and his allies intensify their Disney battle as more Republicans criticize him
Ron DeSantis answers a question at a press conference held Monday, April 17th, 2023, at the headquarters of Central Florida Tourism Oversight District (formerly Reedy Creek Improvement District), which a newly appointed board has renamed. Orlando Sentinel Ron DeSantis, his allies and the Republican presidential hopeful are intensifying their fight against Walt Disney Co. despite the criticism from his rivals for his long-running battle with the entertainment giant.
DeSantis has ripped Disney this week repeatedly over its recent moves to thwart his efforts to seize control of the company's Orlando parks and property. DeSantis, who hasn't announced his presidential plans, is considered the top Republican candidate for the 2024 GOP presidential nomination. He was promoting a new book that calls Disney a "Magic Kingdom of Woke Corporatism". "Meanwhile his handpicked Disney World's Special Tax District board of supervisors increased the pressure on Disney.
The officials took action on Wednesday to regain control of the property they claim Disney wrongfully took away before they took over. "People have suggested that we create a state-run park or try to build more amusement parks. Someone suggested another state prison. Who knows?" DeSantis said.It is the latest chapter of a grim story that began over a year ago, when Disney opposed the controversial Republican Florida law limiting discussion in classrooms about sexual orientation or gender identification. Disney's stance on the legislation, dubbed by critics "Don't Say Gay", sparked an intense feud.
The Republican governor of Florida and the GOP-controlled legislature targeted a special tax district which has allowed Disney to govern itself for decades. DeSantis, who is willing to use his political influence to engage in cultural battles, has become a rising star within the GOP. His transition to the national scene, in apparent anticipation for a presidential announcement has sparked some criticism from his fellow Republicans. Trump, a former DeSantis supporter who is now regularly attacking the governor, wrote on Tuesday that the Governor is being "absolutely ruined by Disney". "Republican ex-New Jersey Gov. Chris Christie questioned DeSantis this week about his political skills, referencing the Disney row.
Chris Christie said in an interview with Semafor that "that's not the person I want to sit across from" President Xi Jinping or Russian President Vladimir Putin and trying to resolve what is happening in Ukraine if you cannot see around a blind corner [Disney CEO] Bob Iger has created for you." Chris Sununu, who spoke on CNN Monday, said that the battle "confuses the entire Republican message," Politico reports. These Republicans are either running or considered potential candidates for president. They could be DeSantis' rivals. DeSantis' press secretary Bryan Griffin responded to the recent GOP criticism by referring to a statement released on Tuesday accusing Disney of passing a "legally defective, 11th-hour agreement" to preserve its special privileges.
Griffin's statement was a response Christie's criticism. It said: "That's an effort to subvert will of the people in Florida, and Governor DeSantis won't stand for that." The Reedy Creek Improvement District is a local government entity established in 1967. It gave Disney regulatory control of public services and functions in a 25,000-acre region encompassing its Florida resorts and parks. Disney paid Reedy Creek millions of dollars in taxes to fund these services. This was on top of the local tax obligations.
Florida Republicans passed legislation weeks after Disney denounced this classroom bill. DeSantis then signed the bill. The move raised concerns that Florida taxpayers living in the two counties around Reedy Creek would be hit with a large tax bill if Florida removed Disney's self governing status. In a February special session, the state legislature scrapped the plan and replaced it with a proposal that allowed DeSantis the power to appoint the five board members.
But last month, the newly chosen board of the governing board — now called the Central Florida Tourism Oversight District – said that their predecessors had stripped many of their rights on their way out. "The bottom line is Disney committed a caper that would have made Scrooge McDuck proud to try and evade Florida laws," said David Thompson, identified as trial counsel for the board. David Thompson, identified by the board as trial counsel, said that its efforts were illegal and would not stand.
Tucker Carlson leaves Fox News after Dominion settlement for defamation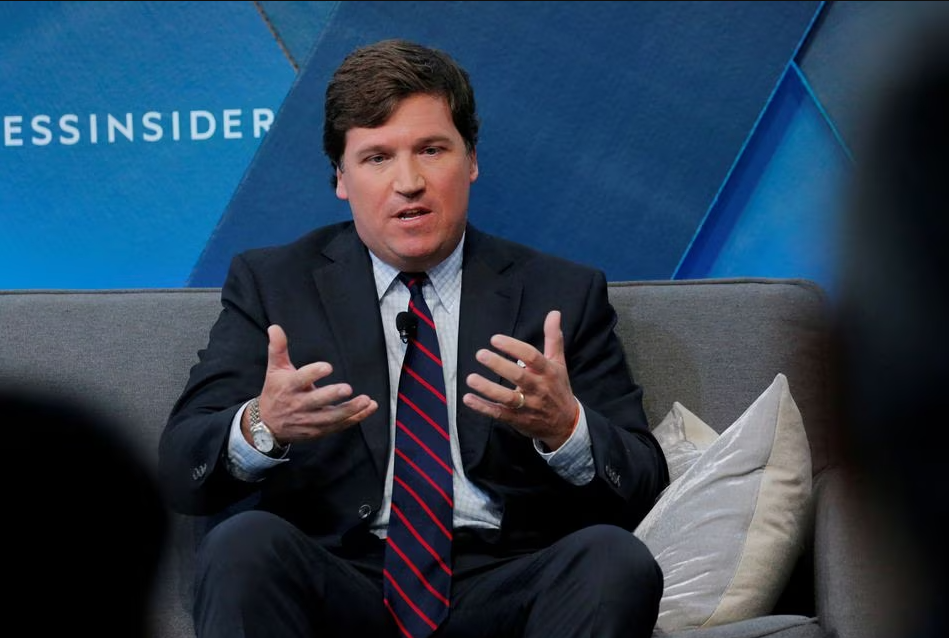 In this articleFOXAFollow stocks you likeCREATE A FREE ACCOUNTTucker Carlson, the right-wing prime-time host at Fox News, is leaving immediately. The cable network announced this Monday. This announcement came just days after Fox News parent company settled Dominion Voting Systems defamation suit for $787.5 Million. CNBC reported that the settlement did not require the company's hosts to discuss the lawsuit or apologize for it. FOX News Media announced in a Monday statement that it and Tucker Carlson had agreed to part ways. "We thank him both for his work as a network host and, before that, as a contributing contributor. "There will not be a send-off for Carlson as his last show aired on Friday. Carlson had said he would return Monday when he signed off on Friday. Carlson's "Tucker Carlson Tonight" has been one of Fox's most popular programs for years. The company would not comment beyond the press release or whether Carlson had been taken off the air as a result of the Dominion defamation lawsuit. Fox News did make a statement in Carlson's name. The Fox Corp. Class A share price fell about 3% on Sunday. Carlson's emails and texts were also included in the evidence that was released before the settlement. Carlson was also among the hosts deposed by Dominion and included in the evidence. Other hosts deposed were Maria Bartiromo and Jeanine Pirro. Sean Hannity, Laura Ingraham and former host Lou Dobbs. "It's unbelievably insulting to me." Court documents show that Carlson stated in a text message sent in the weeks following the election: "Our viewers are good people, and they believe it." Dominion pointed out the drop in Fox's viewership after election night when the network called Arizona Biden. Carlson and his co-hosts expressed "the danger to them personally" behind the scenes. Carlson wrote to his producer in a message on November 5, "We worked hard to build what you have." These f —-ers destroy our credibility. It enrages my." Carlson was one of the witnesses who would have testified if the lawsuit went to trial. Abby Grossberg was also on that list of witnesses. She was a former Fox Producer who worked for Bartiromo, Carlson, and Bartiromo. Grossberg claimed she was forced to give misleading testimony in the Dominion lawsuit. Fox said Grossberg's "unmeritorious claims" were "filled with false allegations about Fox and its employees". "Grossberg's attorneys stated in court documents that she was terminated by Fox as a result of retaliation. She has filed lawsuits against Fox in New York and Delaware, accusing the network of discrimination.Grossberg cheered Carlson's departure in a statement Monday, saying, "This is a step towards accountability for the election lies and baseless conspiracy theories spread by Fox News, something I witnessed firsthand at the network, as well as for the abuse and harassment I endured while Head of Booking and Senior Producer for Tucker Carlson Tonight. I think this is fantastic for America! It's a win for cable news viewers, not just Fox. "Carlson replaced Bill O'Reilly's prime-time slot on Fox after O'Reilly quit the network in 2017 amid controversy. O'Reilly was accused of sexual harassment in the past by former Fox employees. He has denied these allegations. While the Dominion suit was unlikely to have an impact on Fox's business it was not clear what effect it would have on its programming or hosts. Shortly after Smartmatic, a voting technology company, sued Fox in 2021 for defamation, Dobbs weekday show on Fox Business was cancelled. Dobbs was named as a defendant by Smartmatic in their ongoing lawsuit. The trial is not scheduled to begin until 2025. Fox had said that the show was already being cancelled before the lawsuit. Disclosure: NBCUniversal owns CNBC.