Indian's yarn imports from China surge amid rising raw material costs
​ Between January and April 2023, India imported 251.533 million kg of yarn from China, accounting for 68.86 per cent of the country's total yarn imports. These imports were valued at $448.634 million, marking a 17.43 per cent increase compared to the same period the previous year. The significant amount of yarn imports can be attributed to higher raw material prices in India, which make imported yarn more cost-effective.
India's yarn imports from China were worth $384.003 million in January to April 2022. However, these imports were 11.17 per cent less in value compared to the January-April 2021 period, during which the imports were valued at $432.306 million. For the same period in 2020 and 2019, the value of India's yarn imports was $150.655 million and $162.227 million, respectively, as per data provided by Fibre2Fashion's market insight tool TexPro.
In 2022, India's yarn imports amounted to 503.122 million kg, with a total value of $1,359.584 million. This was an increase from 487.956 million kg ($1,094.979 million) in 2021, 246.586 million kg ($513.958 million) in 2020, and 178.995 million kg ($524.742 million) in 2019.
While the increased imports have posed challenges for India's domestic spinning industry due to diminished demand, the weaving industry has benefitted from the availability of cheaper imported yarn. Furthermore, a slowdown in garment demand from both global and domestic markets has impacted the industry.
According to TexPro, India's total yarn imports were valued at $654.816 million during the first four months of 2023. Among the top five yarn suppliers to India, China was the leading provider with a 68.86 per cent share of total imports. Other significant suppliers included Indonesia (5.11 per cent), Nepal (4.1 per cent), Vietnam (4 per cent), and Bangladesh (3.60 per cent) for the period between January and April 2023.
Fibre2Fashion News Desk (KUL)
​
Between January-April of 2023, India bought 251.533 million kilograms of yarn from China, which was 68.86 percent of its total yarn imports. This was a rise of 17.43 percent compared to the prior year. The expense of unprocessed materials sourced within the country has resulted in an increase in yarn brought in from overseas, causing trouble for the spinning sector in India, while at the same time, bringing gain to the weaving industry.
India-China trade falls 0.9% in H1 2023; 1st signs of slowdown in year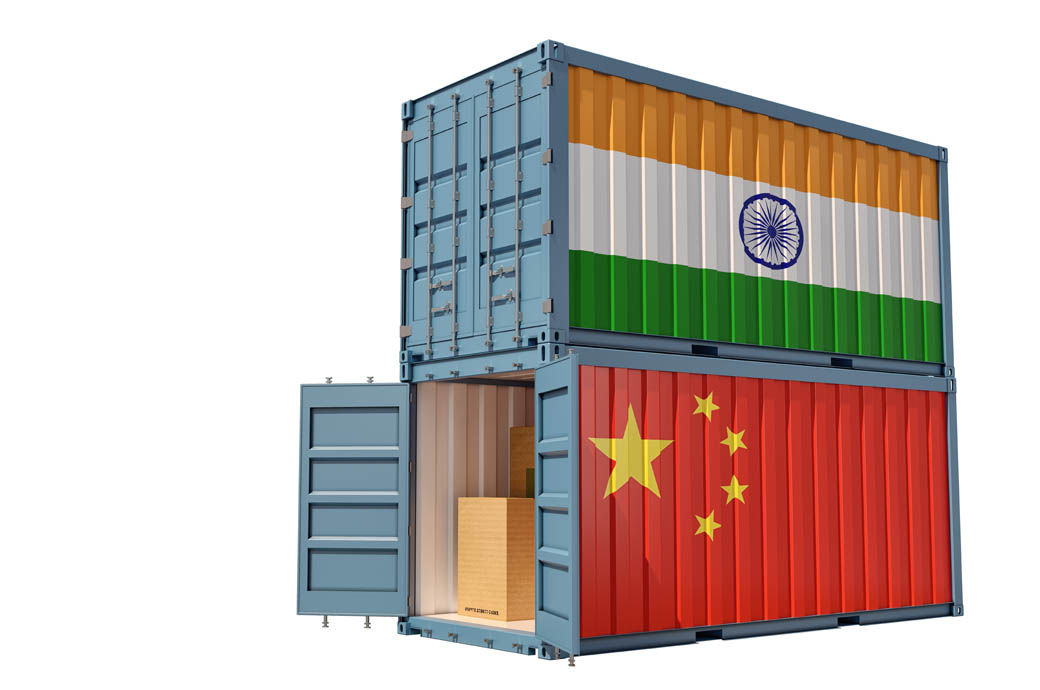 ​ Bilateral trade between China and India showed the first signs of slowing down in years, falling by 0.9 per cent in the first half (H1) this year.
China's exports to India in H1 2023 were worth $56.53 billion compared to $57.51 billion during the same period last year–a decline of 0.9 per cent, according to Chinese customs data.
India's exports to China during the same period totalled $9.49 billion compared to $9.57 billion during the same period last year.
India-China trade touched an all-time high of $135.98 billion last year, overtaking the $125 billion mark a year earlier by registering an 8.4 per cent rise.
The Asian giant's trade deficit in H1 2023 declined significantly to $47.04 compared to $67.08 billion during H1 last year. The trade deficit reached $101.02 billion in 2022, up by 45 per cent from $69.38 billion in 2021.
China's total trade in H1 this year fell by nearly 5 per cent from a year earlier in dollar terms. While exports slipped 3.2 per cent, imports declined by 6.7 per cent.
Its exports fell by 12.4 per cent year on year in June this year amid weakening demand following rising interest rates by central banks to curb inflation, a news agency reported.
Fibre2Fashion News Desk (DS)
​
The trade between China and India displayed the first indications of a sluggish progression in recent years, diminishing by 0.9% in the first six months of this year. China's exports to India decreased from $57.51 billion in the first half of 2022 to $56.53 billion in the same period of 2023. Meanwhile, India's exports to China decreased from $9.57 billion to $9.49 billion.