Southeastern Grocers, Relocalize Partner on Ice
Southeastern Grocers has partnered with Relocalize, an automated food production service, to pilot ice manufacturing in an autonomous micro-factory, designed to help eliminate middle-mile logistics to reduce global greenhouse gas emissions, water waste, and plastic pollution.
The micro-factory is managed by an AI-powered software platform and uses robotics for all production labor. This manufacturing process allows the grocer to scale production and create waste reduction solutions throughout the full lifecycle of the product while lowering its economic and environmental cost.
Through this partnership, SEG has also introduced Party Cubes, a certified plastic-negative, packaged ice that is produced on-site and on-demand at the micro-factory. The product is available at two Jacksonville, Florida locations, including the Lakewood Winn-Dixie store and the grocer's stand-alone liquor store, WDs Wine, Beer, and Liquor, with plans to expand to the broader market.
 "Our partnership with Relocalize meets at the intersection of sustainability and innovation and provides a unique opportunity to offer our customers better ice, in a better package, at a better price – that's also better for the planet," said Anthony Hucker, president and CEO for Southeastern Grocers, in a statement. "We plan to pilot ice manufacturing in the world's first autonomous ice micro-factory in our hometown of Jacksonville, and we are excited to now offer Party Cubes in select local stores as we test and learn with the industry's first hyper-local, certified plastic-negative, packaged ice."
Party Cubes cost less for consumers compared to traditional bagged ice, and the leak-proof packaging is recycle-ready. For every pound of plastic used in packaging, Relocalize will remove and recycle two pounds of ocean plastic. Additionally, the process produces zero water waste and reduces trucking carbon dioxide emissions by 90 percent, according to the company.
 "Two years ago, we set out on a mission to decarbonize food supply chains. Today, fully autonomous hyper-local food manufacturing becomes a reality through our partnership with Southeastern Grocers," said Wayne McIntyre, CEO and co-founder of Relocalize.
H-E-B Breaks Ground on New Location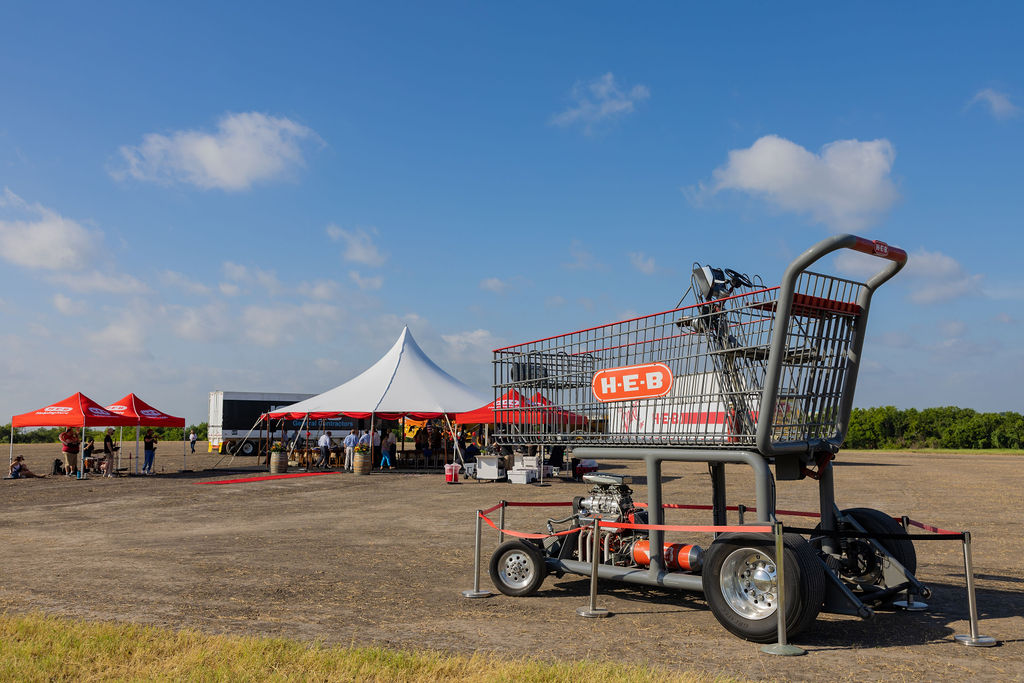 ​
H-E-B revealed Wednesday that it has started construction on a new store in Pflugerville, Texas. The 127,000-square-foot location is expected to open in the fall of 2024.
"We are thrilled to start construction on our third store in Pflugerville, a growing community we've proudly been a part of for 35 years," said Cathy Harm, H-E-B's SVP of central Texas, in a statement. "We look forward to serving our dedicated customers in this part of Travis County with a new store that offers a wide assortment of quality products, innovative services, and the best of what H-E-B has to offer."
Among the store's highlights are a True Texas BBQ restaurant, a full-service Pharmacy with a two-lane drive-thru, Curbside and Home Delivery pickup and delivery services with dedicated parking for Curbside customers, and a new fuel station and car wash.
The new location will emphasize fresh, top-quality food options at low prices, according to the retailer.
Location amenities will include:
• Full-service Bakery and Tortilleria that offers a selection of artisan breads, tortillas made in-house, and desserts, pastries, and cakes.
• Deli featuring a large assortment of cheese and charcuterie.
• Wine and Beer department with sampling stations and local, national, and international labels.
• Organic foods and an expanded Healthy Living department.
• Full-service meat market and seafood counter.
• Meal Simple area with chef-inspired ready-to-cook or ready-to-eat options.
• Cooking Connection with live demonstrations and samplings for easy recipes to make at home.
• Sushiya offering handmade sushi selections made in-store daily and an Asian grill with rice bowls, teriyaki, and more.
• Expansive selections in grocery and general merchandise departments.
To give back to the community H-E-B donated a total of $25,000 with gifts of $5,000 each to American Legion Kerlin-Lyerly Post 154, Circle of Hope Community Center, For the Children Inc., Horse Empowered Learning Programs, and Pflugerville Education Foundation.
Related: Florida Winn-Dixie Reopens; Aldi to Open Louisiana Store