'Squad' Dem faces backlash for smearing Israel as 'racist state': 'Truly disgusting'
Rep. Pramila Jayapal, D-Wash., was blasted on social media Saturday after she told a protester that Israel is a "racist state" and called for a two-state solution.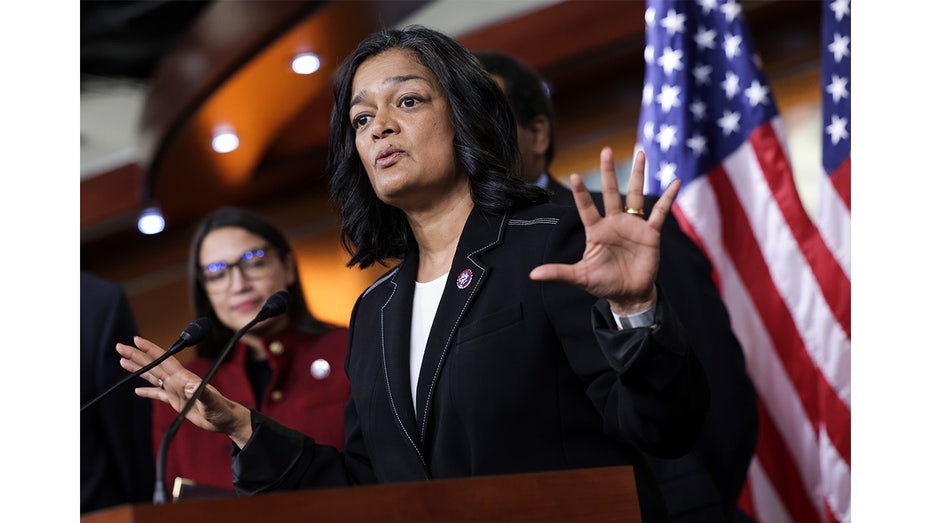 A member of the "Squad" of far-left House Democrats received backlash over the weekend on social media after she accused Israel of being a "racist state."
The condemnation of Israel from Rep. Pramila Jayapal, D-Wash., who heads the Congressional Progressive Caucus, came in response to outbursts from pro-Palestinian protesters who interrupted a panel she spoke on.
"As somebody who's been in the streets and participated in a lot of demonstrations, I want you to know that we have been fighting to make it clear that Israel is a racist state, that the Palestinian people deserve self-determination and autonomy, that the dream of a two-state solution is slipping away from us, that it does not even feel possible," Jayapal said at the far-left Netroots Nation Conference in Chicago.
"It is people that are literally trying to make sure that we do not take the positions we take, that the rest of the progressive caucus has been pushing and pushing," she added.
HOUSE DEM JAYAPAL GRILLS FBI'S WRAY ON COLLECTING AMERICANS' DATA, WARNS OF 'DIFFICULT' FISA REAUTHORIZATION
The video of the exchange quickly went viral, with a wide variety of criticism toward Jayapal.
"A disgraceful statement that's particularly tone deaf when thousands of Israelis are in the streets protesting to protect their democracy," Jason Brodsky, the policy director at United Against Nuclear Iran, tweeted. "#Israel's previous government included Ra'am in the coalition. That's not what a racist state does."
"You can never be extreme enough for these people," Miranda Devine, a New York Post columnist and Fox News contributor, tweeted.
"[Rep. Jayapal], you are despicable," Sen. Rick Scott, R-Fla., tweeted. "This is truly disgusting, especially coming from a member of Congress."
Several members of the "Squad" have announced they will boycott Israeli President Isaac Herzog's address to Congress this week. Jayapal has repeatedly called for a two-state solution in the region.
"There is no way in hell I am attending the joint session address from a President whose country has banned me and denied [U.S. Rep. from Michigan] Rashida Tlaib the ability to see her grandma," Rep. Ilhan Omar, D-Minn., said in a series of tweets. She also said the U.S. government should not have invited him to speak in the first place.
"Pramila Jayapal is on stage, slandering Israel, and by extension the Jewish people's right to freedom and self-determination as 'racist.' This is anti-Semitism," tweeted Caroline Glick, a senior contributing editor at the Jewish News Syndicate.
REP JAYAPAL CLASHES WITH CNN HOST OVER AMERICANS SUPPORTING SPENDING CUTS AS PART OF DEBT LIMIT DEAL
"Calling the only nation state of the Jews 'racists' when offers all its citizens, including Arabs & Muslims equality rights, is something I would expect to hear from the Ayatollahs in Iran or members of the mullah regime "parliament", NOT a member of Congress! FOR SHAME JAYAPAL!" Karmel Melamed, a journalist, tweeted.
ILHAN OMAR SAYS 'NO WAY IN HELL' SHE'S ATTENDING ISRAELI PRESIDENT'S ADDRESS TO CONGRESS NEXT WEEK
CLICK HERE TO GET THE FOX NEWS APP
Jayapal released a long statement on Twitter and on her office's website Sunday afternoon in an attempt to clarify her comments on Israel, saying she does not "believe the idea of Israel as a nation is racist." However, she accused the "extreme right-wing government" of Israeli Prime Minister Benjamin Netanyahu of pushing "outright racist policies."
"I have always worked toward a two-state solution that allows both Israelis and Palestinians to live freely, safely, and with self-determination alongside each other and that is still what I am absolutely committed to," Jayapal said. "I also know that the many policies of the current Israeli government, including rampant settlement expansion, make it extremely difficult for Palestinians who simply want the same rights as their Israeli neighbors to believe such a solution is possible."
'One Nation, One Solution', Get Rid of BJP Misrule in 2024: Kharge on Simultaneous Polls Panel
In his post, Kharge said, "This gimmick of forming a committee on 'One Nation, One Election' is a subterfuge for dismantling the Federal Structure of India." "Drastic actions like 'One Nation, One Election' would sabotage our Democracy, Constitution and evolved-time-tested procedures. What can be accomplished by simple electoral reforms would prove to be a disaster, like other disruptive ideas of PM Modi," he said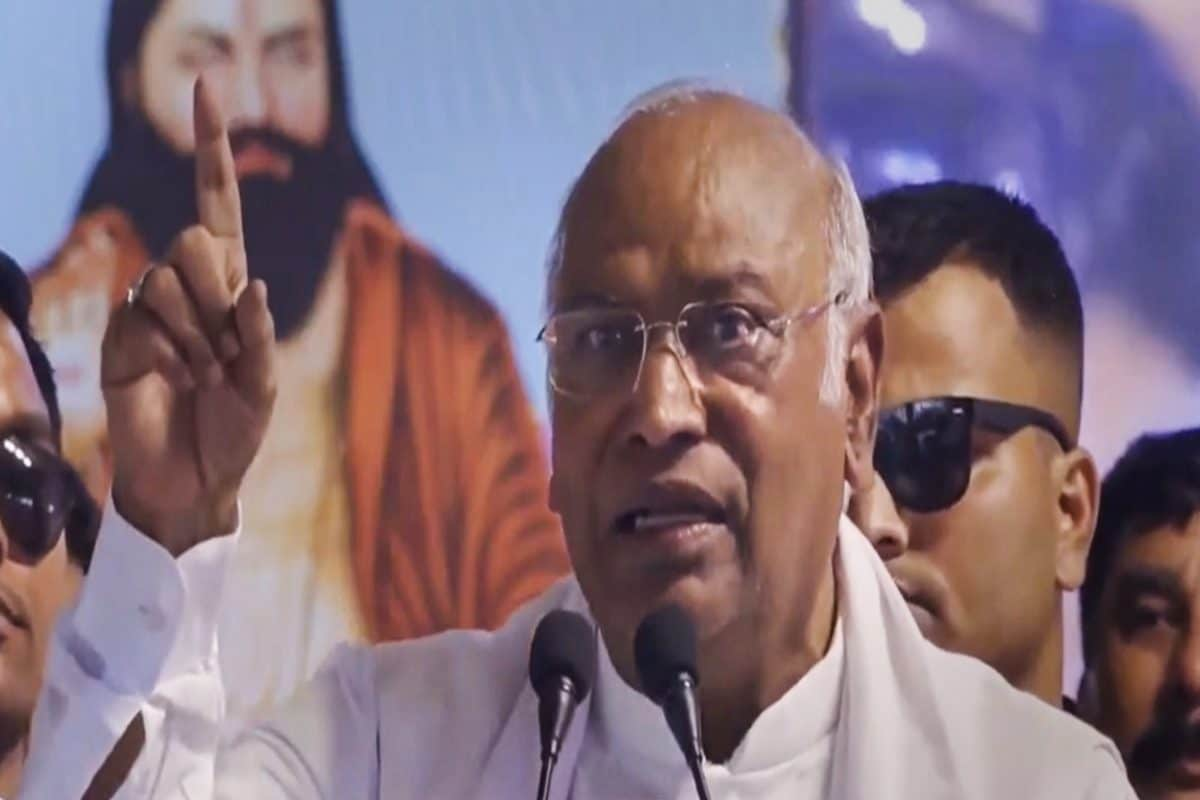 Amid the government's push for simultaneous elections in the country, Congress president Mallikarjun Kharge on Sunday said the people of India have "one nation, one solution" for 2024 and that is to get rid of the BJP's "misrule".
In a post on X, Kharge termed the high-level committee constituted by the Centre to examine the feasibility of 'One Nation, One Election' a "gimmick" and alleged the Modi government wants to slowly replace democracy in India with dictatorship.
The government on Saturday notified an eight-member high-level committee, which will be headed by former president Ram Nath Kovind, to examine and make recommendations for holding simultaneous elections to Lok Sabha, state assemblies, municipalities and panchayats.
Hours later, Congress leader in Lok Sabha Adhir Ranjan Chowdhury, the lone opposition leader in the panel, wrote to Union Home Minister Amit Shah declining to be a part of the committee, saying its "terms of reference have been prepared in a manner to guarantee its conclusions".
In his post, Kharge said, "This gimmick of forming a committee on 'One Nation, One Election' is a subterfuge for dismantling the Federal Structure of India." "Drastic actions like 'One Nation, One Election' would sabotage our Democracy, Constitution and evolved-time-tested procedures. What can be accomplished by simple electoral reforms would prove to be a disaster, like other disruptive ideas of PM Modi," he said.
Till 1967, the Congress president said, neither did India have so many states nor did it have 30.45 lakh elected representatives in panchayats.
Noting that India is the world's largest democracy, Kharge said, "We have lakhs of elected representatives, and their future cannot be determined in one go, now." "For 2024, people of India only have 'ONE NATION, ONE SOLUTION' – To get rid of BJP misrule," he said.
Kharge said at least five amendments to the Constitution and a massive change in the Representation of the People Act, 1951 would be required to hold simultaneous elections in the country.
The constitutional amendments shall be required to truncate the terms of the elected Lok Sabha and state assemblies, as also at the level of local bodies so that they can be synchronised, he said.
"Essential questions:- Without undermining the wisdom of any individual, is the proposed committee best suited to deliberate and decide on perhaps the most drastic disruption in Indian electoral process? "Should this huge exercise unilaterally be undertaken without consulting the political parties at the National level and at the State level," asked Kharge, who is also the leader of opposition in Rajya Sabha.
He further asked if this exercise should take place without bringing the states and their elected governments on board.
"This idea has been extensively rejected by three Committees in the past. It remains to be seen whether the Fourth one has been constituted with a pre-decided outcome in mind," he said.
He also expressed surprise that the committee does not include a representative of the Election Commission (EC).
Kharge claimed the EC incurred an expenditure of around Rs 5,500 crore on elections between 2014-19 (including the 2019 Lok Sabha polls) and it is only a fraction of the government's expenditure budget. This makes the cost-saving logic "penny wise, pound foolish", he said.
"Similarly, if the Model Code of Conduct is a problem, it can be changed either by shortening the length of the moratorium or by relaxing the kinds of developmental activities permitted during the election season. All political parties can reach a wider consensus in this regard," he said.
"The BJP has a habit of overthrowing elected governments by disregarding the mandate of the people, which has added considerably to the total number of 436 by-elections since 2014 for parliamentary and assembly constituencies alone," the Congress president said.
"This inherent greed for power in the BJP has already vitiated our politics and has rendered the anti-defection law toothless," Kharge said.
Besides, Congress' Chowdhury, the government named Home Minister Amit Shah, former leader of the opposition in Rajya Sabha Ghulam Nabi Azad, former Finance Commission chairman N K Singh, former Lok Sabha secretary general Subhash C Kashyap, senior advocate Harish Salve and former chief vigilance commissioner Sanjay Kothari as members of the high-level committee.
Law Minister Arjun Ram Meghwal will attend the meetings of the committee as a special invitee, while Law Secretary Niten Chandra will be the secretary to the panel.
(This story has not been edited by News18 staff and is published from a syndicated news agency feed – PTI)